Invity 2021: Revisiting Our First Full Year on the Market
Crypto in 2021 has been a wild ride, from all-time highs to technical improvements to Bitcoin becoming mainstream as an investment tool and everyday currency. But we've already written about that in our last article—what we want to look at here is the remarkable year that Invity had as a company. Our crypto exchange comparison tool has really come into its own in 2021, our first full calendar year on the market. We've continued to make our platform the easiest way to get started with crypto, whether that means buying your first Bitcoin or building up your crypto portfolio. Let's take a look at all we've accomplished this year!
New features and new ways to transact crypto
The most exciting moments of this year came as we released exciting new features on Invity. Each season of the year came with a new feature, each of which complemented the buying and exchanging capabilities that have been part of our crypto exchange comparison platform from the start. Each and every feature also required a lot of hard work from the whole Invity team—so a huge shoutout to each and every team member! But just as importantly, these new features were carefully calculated to lay the groundwork for even bigger Invity features coming in 2022.
Sell crypto
The first major addition we made to the Invity platform came in the spring of 2021 as we added a Sell crypto feature to Invity.io and Trezor Suite. Thanks to BTC Direct, this allowed us to close the loop of crypto transactions, making Invity a truly one-stop shop for every kind of crypto transaction. Now and forevermore, Invity can fully cater to every crypto user from hodlers to traders, since we make it possible to buy crypto instantly, exchange it as you wish, and then cash out crypto into fiat all through the same familiar platform. Look forward to even more Sell partners in 2022 for more fiat options and more competitive rates!
Read the full article on this Invity feature: Introducing Sell Crypto on Invity!
Invity Accounts
Summer 2021 saw the launch of our free Invity Accounts. Though still in their basic form, Accounts let you keep track of all the crypto transactions you make through Invity—when, how much, with which partner, and so on. You can even check at a glance all the KYC processes you've completed—saving you time the next time you want to buy crypto instantly. In short, Invity's accounts are a way to keep an eye on your crypto portfolio's activity and growth.
What's even more exciting, however, is that an account is also the first step in investing in crypto with Invity's dollar-cost averaging Bitcoin savings account due out in early 2022...to be followed by many more Accounts perks!
Read the full article on this Invity feature: Introducing Invity Accounts!
Invity Beginner's Guide to Crypto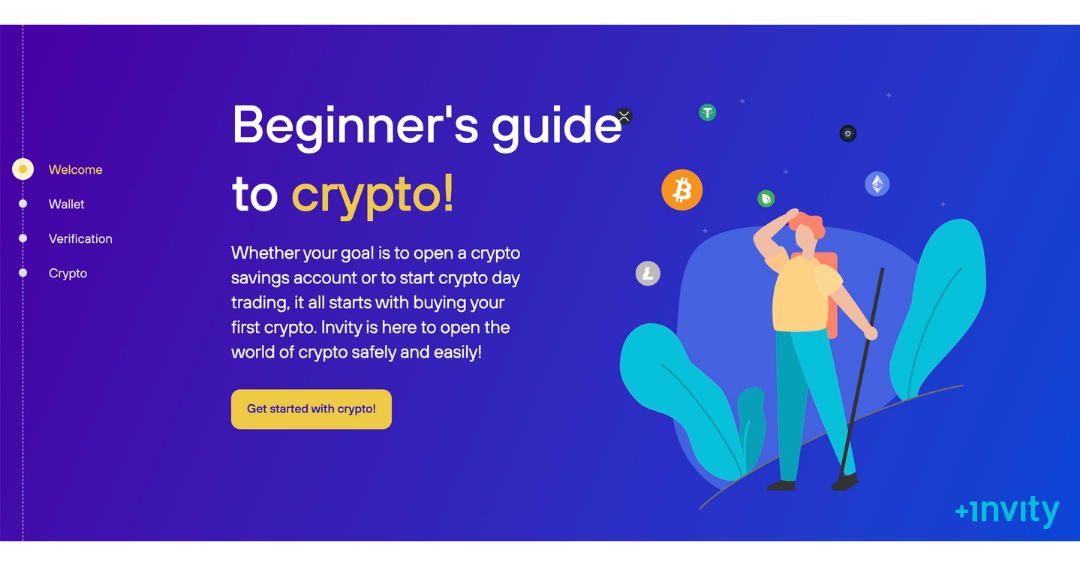 As autumn 2021 came to a close, Invity.io was finally ready to unveil its slick new look. Combining months of feedback gathered from our loyal users with a better sense of how to express ourselves as a one-stop crypto shop, it was all hands on deck to streamline the look and function of every corner of our website.
But perhaps the thing we're most proud of from our site redesign is our Beginner's Guide to Crypto. This feature takes new crypto users through everything they need to make their first Bitcoin transaction, from finding and setting up a wallet to preparing for identity verification to using our crypto exchange comparison tool. Give it a read yourself or share it with a crypto-curious loved one!
Check out the Invity Beginner's Guide to Crypto
Decentralized Exchange (DEX)
Rounding out the year in winter 2021 (or very near it, anyway), we counterpointed our Beginner's Guide with a unique feature that our more advanced users have been loving so far. In conjunction with our partner 1inch, we introduced as an exclusive feature decentralized exchange (DEX) swaps in Trezor Suite.
While DEX isn't available on our web platform, it is a symbol of our tight bond with Trezor and our continued support for every crypto user—provided they're serious about their crypto security, of course. It's also us looking to the future: DEX has made some huge strides in just the past few years, so we're on top of new developments still to come.
More on DEX in Trezor: Trezor Suite and Firmware Updates December 2021
Some truly impressive numbers
Given how much work our team has put in to keeping up existing Invity features as well as introducing more, we love to see it all pay off. Below are just some of the statistics our company is most proud of from the past 12 months. Want a point of comparison? Check out how these stack up to earlier in 2021...we think you'll be as impressed as we are!

Invity's plans for 2022
You might guess that we'll be taking it easy after this year's wild ride. Well, you couldn't be more wrong: Invity is making big, ambitious plans for 2022. We're just polishing our Bitcoin savings account feature for release in the early months of the year, we've got even more provider integrations lined up at a rate of at least one per month, and we aim to significantly expand our team—so feel free to get in touch. We're even kicking off the year with plans for a brand-new product that will make Invity's crypto exchange comparison tool even more accessible to and more useful for millions around the globe.
But going into specifics now would take the fun out of it, right? So you'll just have to stay tuned as we embark on our second full calendar year to see what all is in store for Invity and crypto in 2022.
---
Cover photo via Epochaplus.cz.