Introducing Invity Accounts!
You may have noticed a little change in the look of Invity.io since the last time you visited—namely, there are a few more options in the menu at the top of your page. But while this may so far seem like a small visual update, it's in fact a big step forward in what Invity can do: this marks the introduction of Invity accounts! This article will take you on a quick tour through all this brand-new feature has to offer. A hint: lots of great new ways to make every cryptocurrency transaction easier, securing Invity as the only one-stop shop you'll need for buying, exchanging, and selling crypto. If you're already sold, sign up for your free Invity account now!
Why we created Invity accounts
We've been at work behind the scenes on this feature for months now, letting it simmer even as we worked on tasks like adding new transaction providers and putting the finishing touches on Trezor Suite. So why, amidst all the other things on our plate, have we devoted our time and energy to developing accounts? Two big, main reasons.
First, simplicity. We're proud of the simple, straightforward way we connect every user to the best cryptocurrency exchange rates and guide users smoothly through the purchase or exchange process with each provider. But even still, keeping track of all the crypto transactions you've made can be a real hassle: from when you made a transaction to which providers you've used to the total amount of crypto in your portfolio, there can be a lot of info to be aware of, especially for first-time crypto users. Invity accounts are the simplest way to collect all this info all in one place—you never know when you might need it!

Second, we're preparing for even bigger things to come. Helpful as they already are, the Invity accounts feature is still a work in progress: we already have a clear roadmap of more useful features we want to add over time, and we'll let you know about each and every one as they become available. These additions all require an Invity account to work properly and to make sure you're getting the benefits you deserve. So really, creating an Invity account today as a way to prepare for the future...and isn't that really what investing in Bitcoin is all about?
What Invity accounts offer
Now that we're all on the same page about Invity accounts being a way to simplify your crypto experience and lay a foundation for more great features, let's take a look at what you can do with Invity accounts. Keep in mind that not all of these features are available at this very moment, though by the time the summer is out they'll be in place and your account will be more powerful than ever!
Dashboard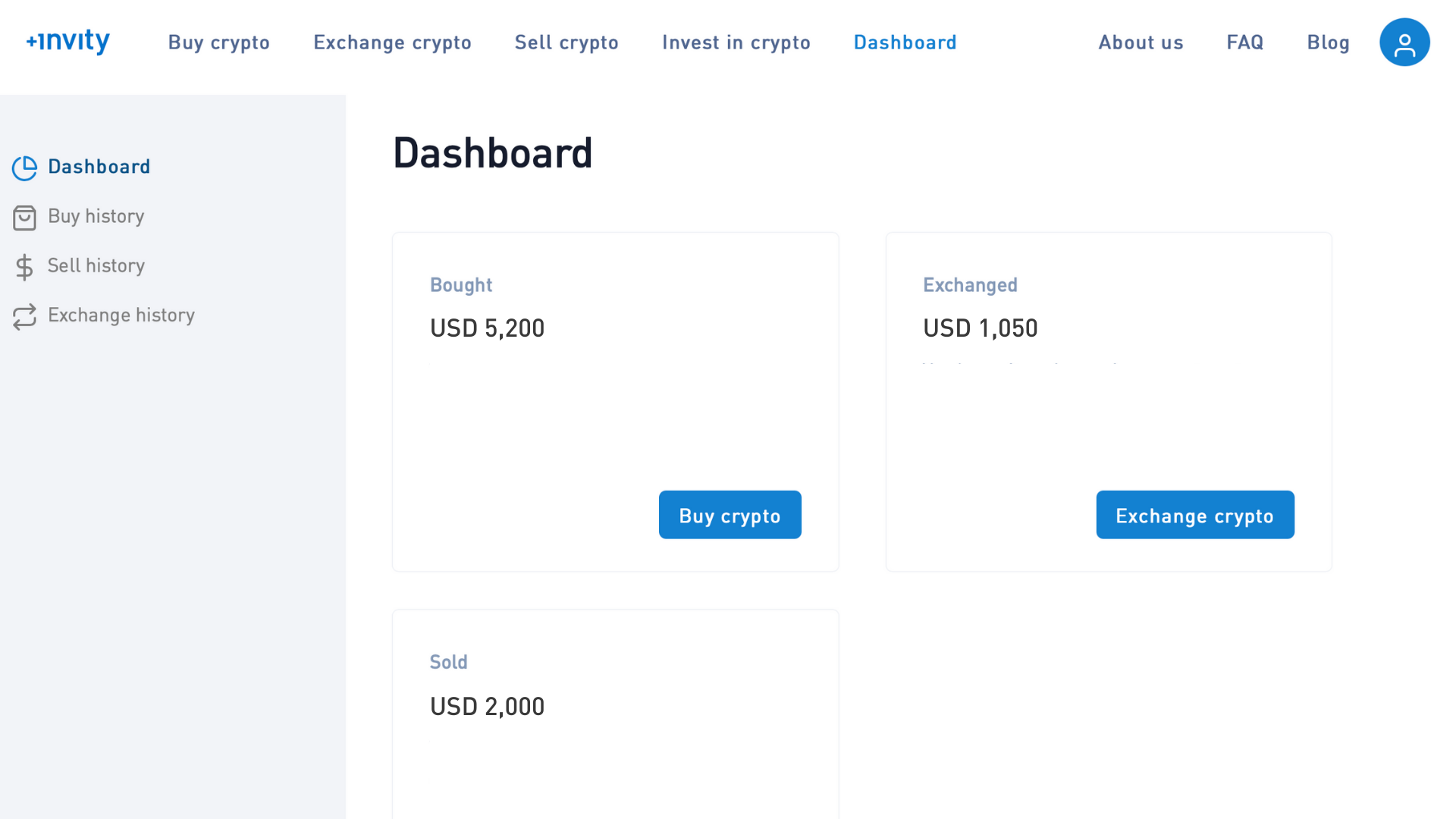 The first thing you'll see after the fast and simple (and free!) account creation process is your very own Invity account Dashboard. This offers a quick overview of the volume of crypto that has passed through your Invity account, denominated in your default fiat currency. Depending on the strategies you employ when it comes to your crypto portfolio, this view offers a quick way to see which Invity features—Buy crypto, Exchange crypto, or Sell crypto—you use most often or which you might still want to explore. In a coming update, the Dashboard will include greater detail and visualizations, including charts and graphs showing how your crypto portfolio has grown and the proportions of different currencies in your holdings.
Transaction history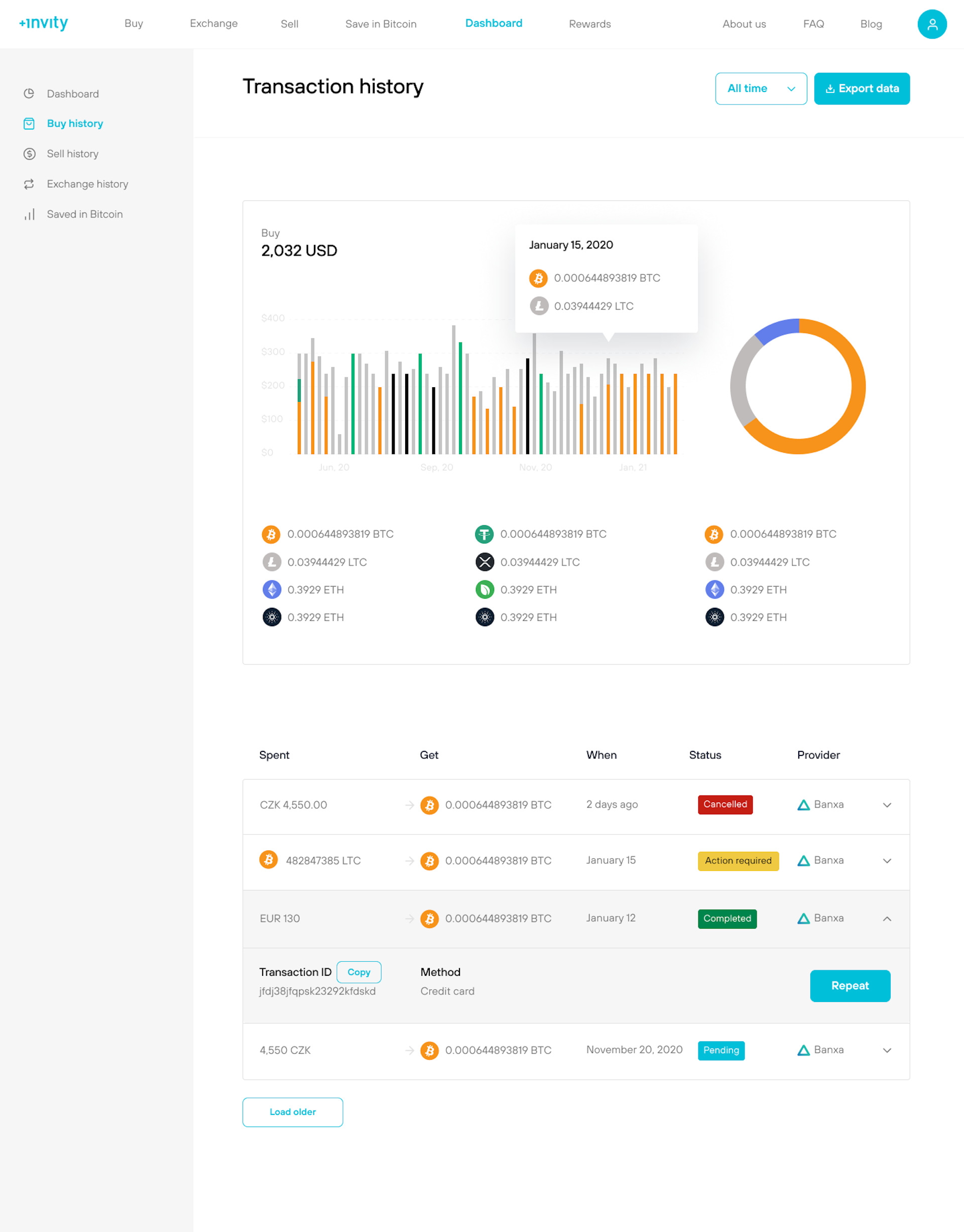 The left-hand sidebar of your Invity account Dashboard is your connection to even more detailed breakdowns of your account. The Buy history, Exchange history, and Sell history tabs each connect you to a full breakdown of the transactions you've made using each feature. You get to see when you made your transaction, how much you spent and how much you received, and which provider you traded with; for buy transactions, you can also see the payment method you used to send your fiat currency. In short, it's all the info you're used to seeing in our comparison tool but for transactions you've already completed. For transactions that are still pending, you can easily see the status of that transaction along with any actions you may still need to complete.
Perhaps best of all, if you're interested in making regular crypto purchases or exchanges, you can use the "Repeat" button to make the same transaction again, as many times as you like—super convenient.
List of KYCs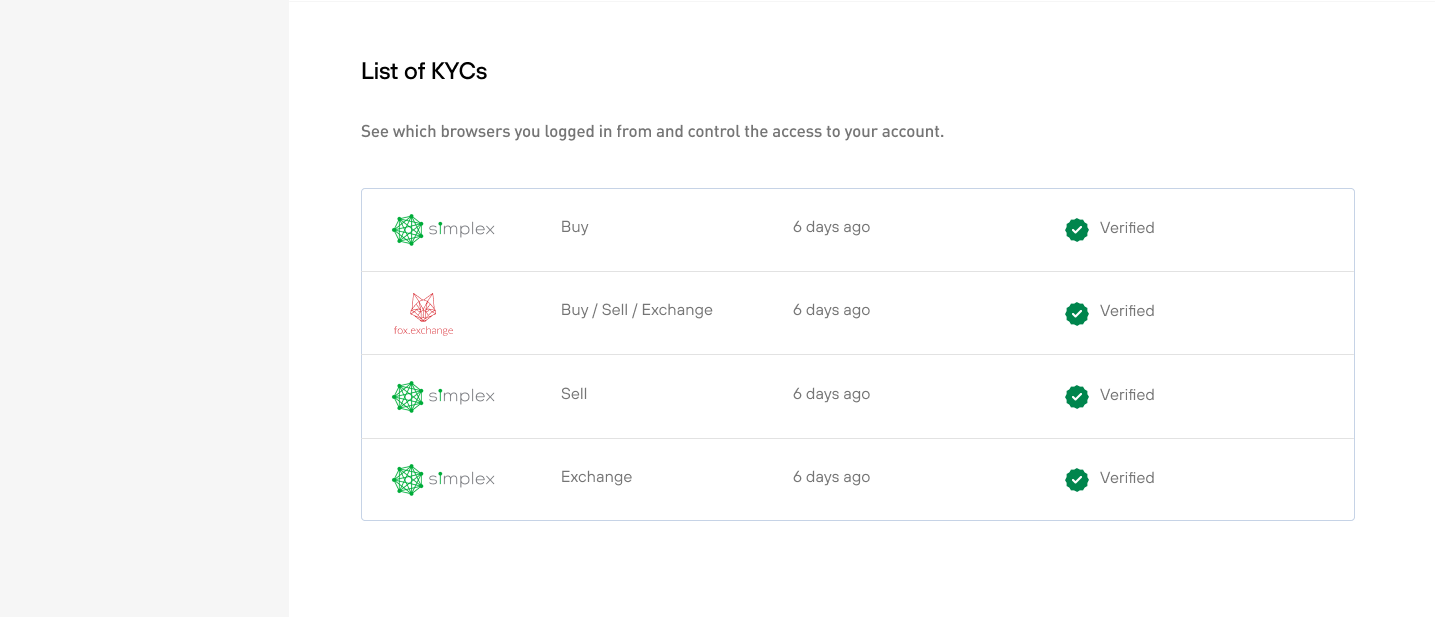 While it's great to have all the different offers from Invity's providers at your fingertips, all those options can also make it hard to keep track of which provider's you've traded with before. This section helps you remember which know your customer (KYC) processes you've completed—once you've completed KYC with a provider, you're usually good to go, making your next transaction even quicker. Then any subsequent provider will be added as you complete their KYC process, giving you added flexibility and peace of mind as you browse our growing list of offers.
Manage your settings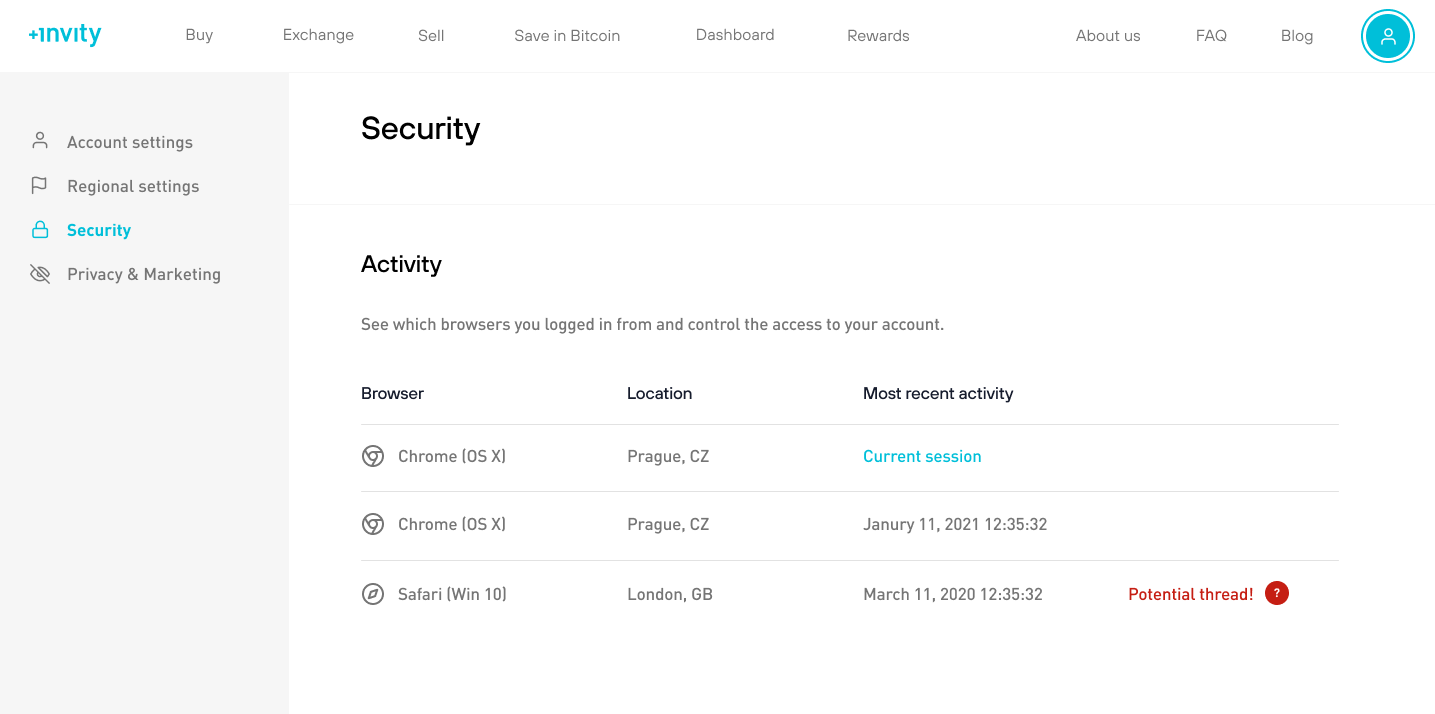 Having a personal account means having a home base that perfectly suits your needs and preferences. That's why Invity accounts offer plenty of settings you can tinker with to make your crypto experience familiar and straightforward. For example, you can set your default location, fiat currency, and payment method so that you're presented with all the best offers for your personal situation from the get-go. You can also select your preferred cryptocurrency, which will be automatically filled in the next time you want to make a transaction—one less step you have to take. These settings will also be applied to your portfolio Dashboard, removing the need to deal with shifting exchange rates.
And of course we want to help you take your personal and financial safety seriously, so your account's security settings are front and center. Double-check that you're the only one logging in to your account, set up two-factor authentication, and more. Oh, and you can choose whether to receive our newsletter too—we recommend it so you're sure to be the first to know about new accounts features, new providers, and Invity news in general!
Still to come: charts and graphs, Bitcoin savings, rewards
As we mentioned a few paragraphs ago, this iteration of Invity accounts is just version 1.0—there are still many more updates that we'll be rolling out in the weeks to come, and it's not just limited to Dashboard details like portfolio charts. Invity accounts are a foundational part of our dollar-cost averaging approach to crypto: very soon our Savings feature will help you set up recurring purchases of Bitcoin, helping you ride out volatility in the markets. You'll be able to create an account, set how frequently you want to make crypto purchases, and how much you want to spend each time, then—voila!—you'll start building up a crypto nest egg for retirement, a rainy day, or any other goal you have in mind.
Perhaps most exciting, we're hard at work on a rewards program. After all, if you're going to be making crypto transactions anyway, why not get paid back for doing so? We're keeping the details under wraps for the moment, so subscribe to our newsletter and follow us on Twitter, Instagram, or Facebook to make sure you're in the know. You can even shout out to us there about what kinds of rewards you'd love to see most!
Why you should sign up for an Invity account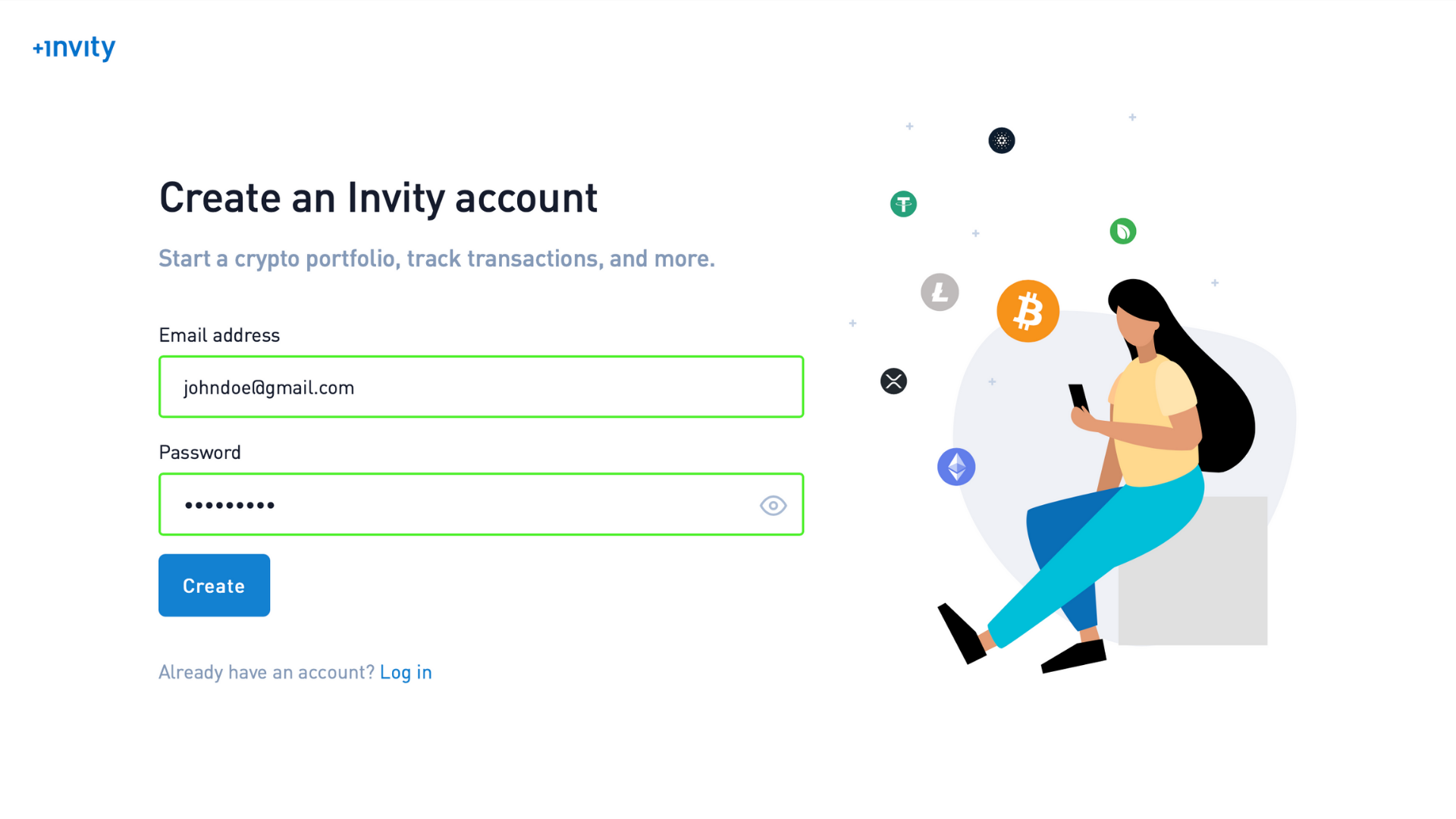 This is just a short taste of what you can do and look forward to when it comes to your Invity account. Of course, you can still buy Bitcoin instantly (or any other crypto you desire!) through our site without an Invity account, but there's no reason not to make your journey in the world of crypto even simpler. Sign up for a free Invity account using just your email address—it's just a click away!