Introducing Sell Crypto on Invity!
If you've been around crypto for any amount of time, you'll surely come across a chorus of voices advising you to only ever hodl your crypto (and if you're still getting used to crypto terms, we have a great glossary that covers "hodl" and plenty more). These folks advise you to buy Bitcoin or altcoins and never let them go. In today's bull market they may have some point—which is why Invity started out by letting you buy crypto instantly. But whether it's a bull market or not, there are also plenty of reasons why you may want to convert crypto to fiat currency instead. That's why we're proud to roll out our Sell crypto feature, available today on Invity.io! This post will walk you through how you can sell Bitcoin or other major coins and receive cash directly in your bank account. Plus we add a few reasons why it's good to have the option to sell instead of just hodling.
Sell crypto instantly on Invity.io
Even though our Sell feature is brand-new, we've carefully crafted the process to be just as easy as our buy or exchange options. This means that there are just a few simple steps you need to go through any time you want to convert crypto to fiat. We've even created a short video illustrating the process!
If that's all the explainer you need, go ahead and try it out on your own or skip down to read why it's smart to be able to sell your crypto. If you want a more thorough explanation, go ahead and read the steps below.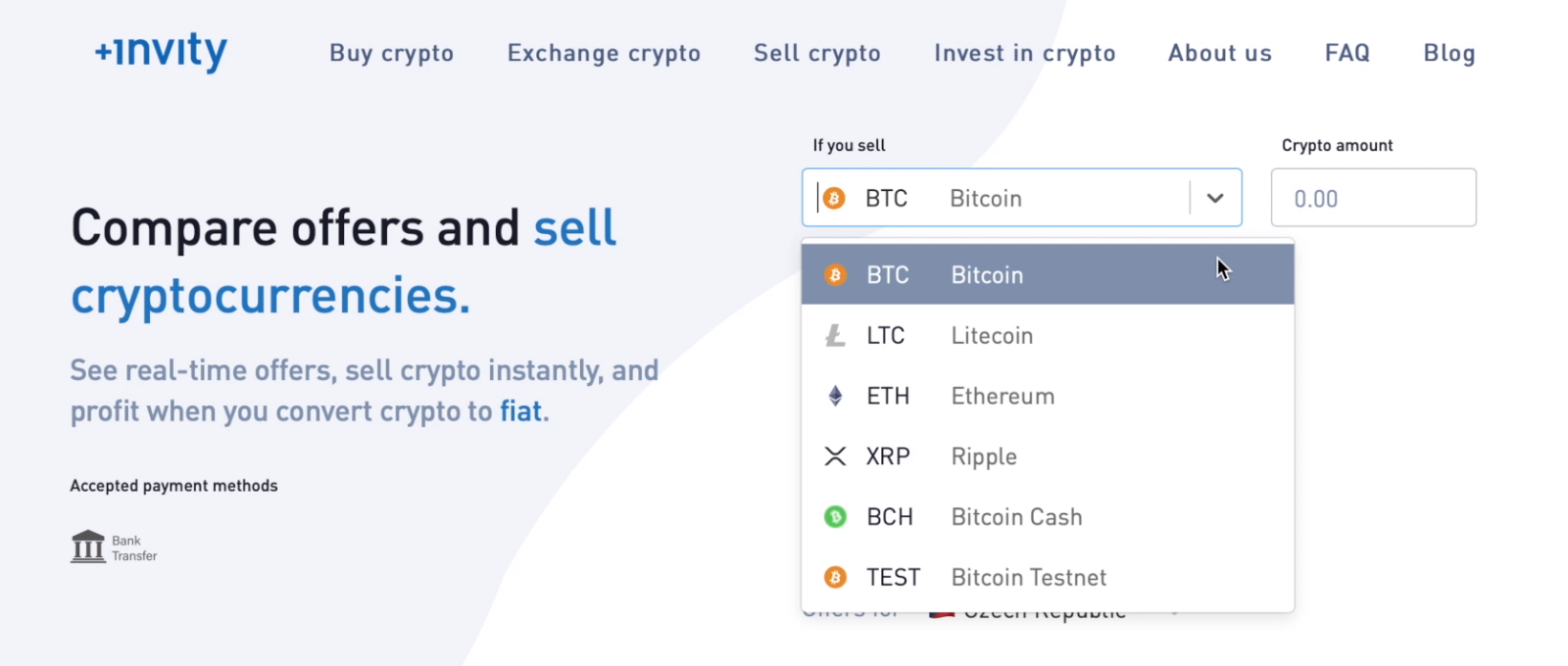 Step one is pretty straightforward: just select the Sell crypto tab in the menu at the top of your page. Here you can select which crypto you want to sell—Bitcoin, Litecoin, Ether, or XRP—and exactly how much of it you're willing to part with. Alternatively, you can use the ↓↑ to input how much cash you want to end up with. Note that at this time, our sell provider, BTC Direct, is only able to pay out in euros and only to users in the Single Euro Payments Area (SEPA). Don't worry, we're hard at work making it possible for more people all around the world to use our new Sell feature!
Select the "Compare and sell" button to move on to the most exciting part: your offers. Here you'll find a list of how much cash you can get for the crypto you want to sell. As with our other features, this list also includes info about the provider able to complete this transaction and the payment method it will take to do so. Again, at this time it's only possible to receive your cash via bank transfer. Select "Get this deal", agree to the security steps, and you'll be move on to actually making your sale.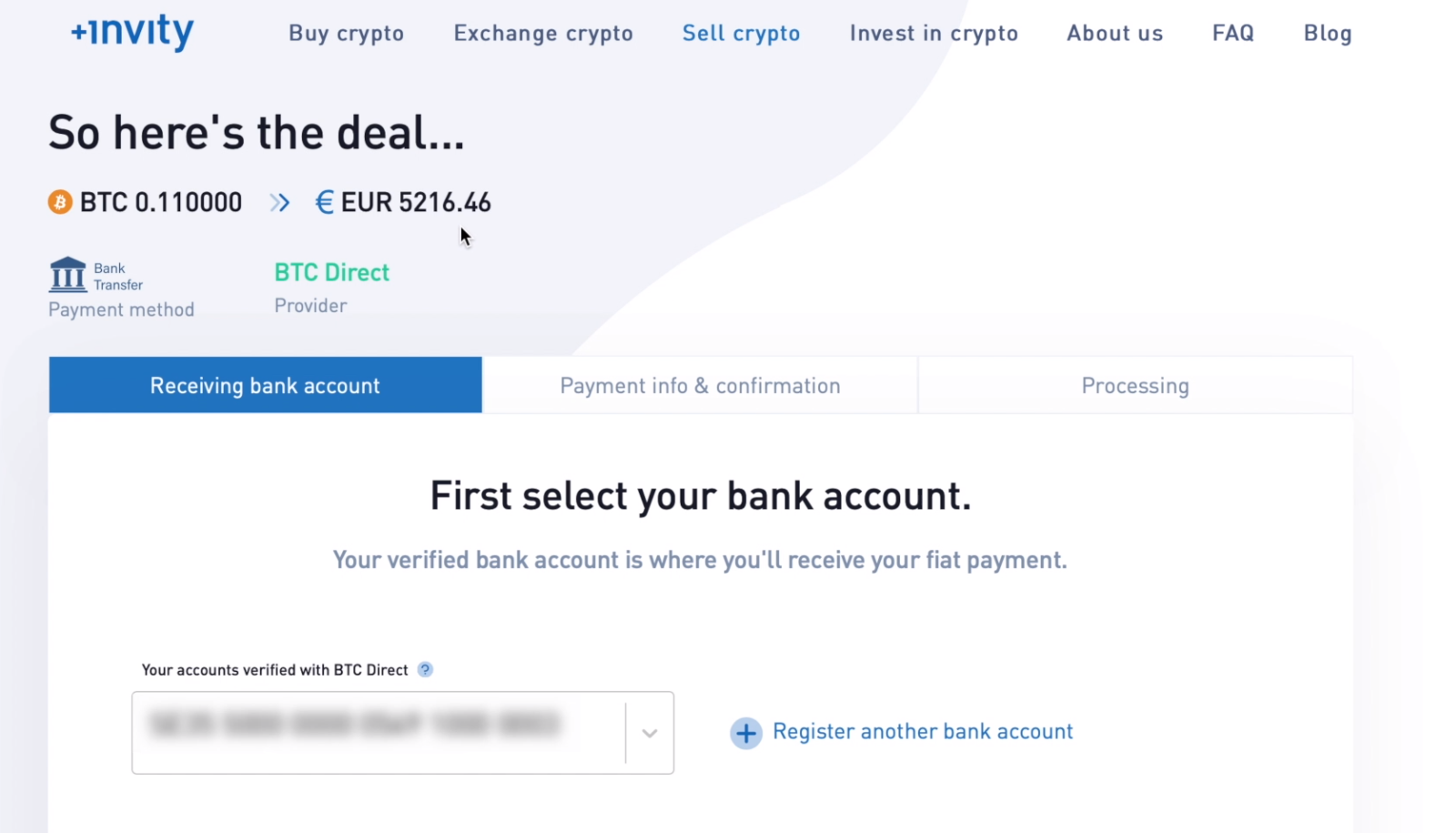 Here you'll have to select the bank account that will receive your cash payment. When you're making your very first sale though Invity, you'll have to click to register your bank account. This is a two-step process that takes place on our provider's website. You'll first need to create a profile with BTC Direct by completing a few basic KYC steps. If you've used BTC Direct before, either through Invity or on its own, you'll likely already have a profile. The second step is the most important when it comes to selling crypto: you need to verify your bank account. This consists of sharing your bank account number with BTC Direct and making a very small—around one euro—transaction between your bank account and theirs. It will be super helpful to have your online banking portal ready so that this can be completed smoothly. Note that the first time you verify an account it could take up to three days for the process to complete; after that, however, Invity and BTC Direct will remember your account details and your verified account will appear automatically. You can include as many bank accounts as you like, though each will have to be verified in order to receive your cash payment.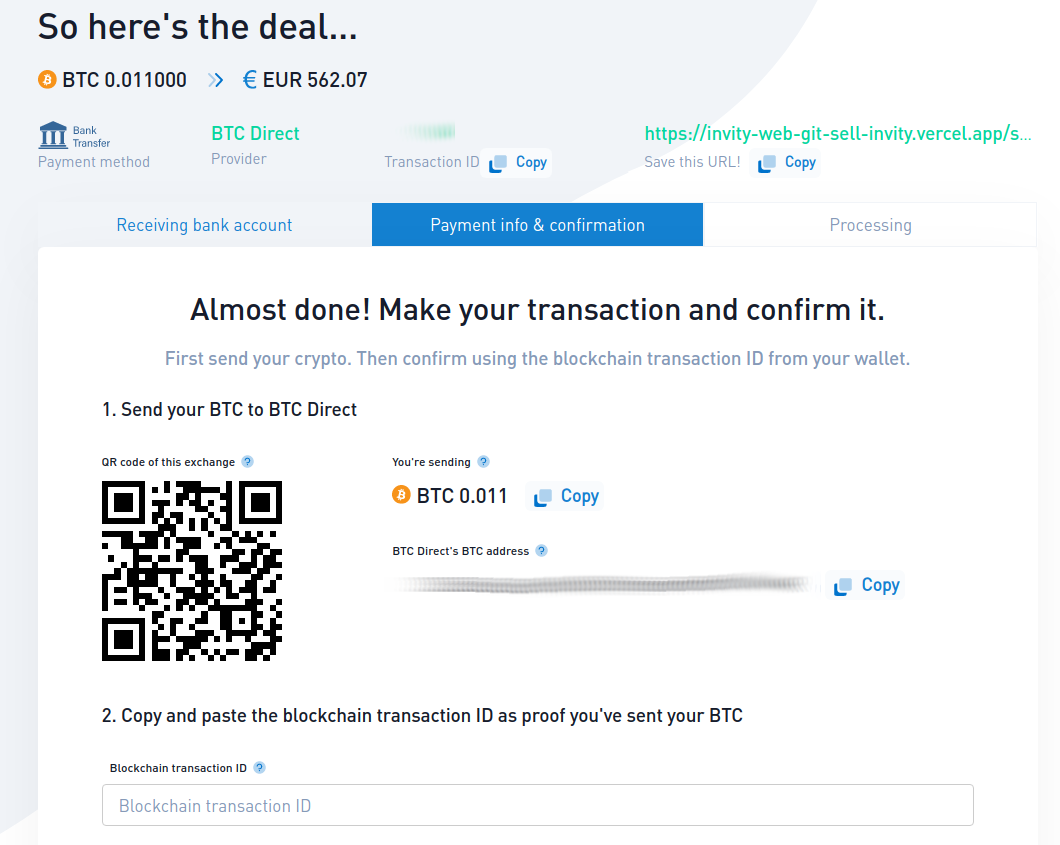 Once you have a verified bank account to work with, you can move to the second tab, titled "Payment info & confirmation". Use your crypto wallet to scan the QR code or manually send the exact amount of crypto to our provider's address. Wait for the transaction to be confirmed in the blockchain, then copy and paste the blockchain transaction ID (which should be in your wallet, usually somewhere like "transaction details") in the box. Hit the final button—"I've sent the [crypto]"—and you'll be on your way! Our provider will process your transaction and your cash will appear in your bank account promptly—a few business days at most.
Hooray, now you know all you need to know about selling crypto on Invity! If you still have questions about how this process works, go ahead and check our FAQ or reach out to our support team. But now for what might be a harder question: why should you consider doing selling your crypto?
Why have the option to sell crypto?
As usual, Invity isn't here to offer financial advice—much of the beauty of investing in crypto is that you're the one in control of your financial decisions. But just as it's good to have a good strategy for buying crypto and exchanging to diversify your crypto portfolio, having the option to sell when it's right for you is important too. So when might you want to use Invity's sell feature to cash out into fiat currency?
You've met your financial goals
Let's face it, most of us don't invest for the fun of it. We want to achieve some sort of concrete goal, whether it's getting together a down payment on a house, preparing for a comfortable retirement, or making sure you have something to pass on to your children. Carrying out these plans usually means having to convert to fiat currency—after all, most sellers don't accept Bitcoin for homes and it can be good to reduce the volatility of your investments once you've reached retirement age. So if you're lucky enough to reach your investment goals according to schedule, you'll need a way to cash out. Luckily Invity now has you covered.
You just need a little extra cash
We've talked before about how crypto can be thought of as an alternative or supplemental form of savings. And if you've been stuck with a surprise car repair or an unexpected medical bill, this is just the sort of rainy day many of us keep our savings around for. Especially with crypto prices rising, cashing out some crypto into fiat could help make a stressful situation a little less so.
On the other hand, if you've noticed that the current rise in Bitcoin price has left you with more savings than you expect, it's always nice to treat yourself. While an increasing number of providers allow you to pay in Bitcoin on vacation, some don't, so you may need to use some hard-earned crypto to pay for those airline tickets or that fancy hotel.
You want to get out of the market
Whether you've reached retirement and want to reduce your investment risk or you're just not cut out for watching crypto markets, you always need an exit plan for your investments. Having a crypto offramp like our Sell feature makes it easy to liquidate your crypto and return to more familiar fiat.
So there you have an intro to using our sell feature and why you might want to do so. So whether you want to test it out or you want to keep on hodling, Invity has a feature for you every step of the way. But we're not done yet. We want to keep adding more providers for all of our features so anyone, anywhere can use crypto easily. And our Invest in crypto feature is still coming along, which will make it even easier to make an investment plan whether you're in crypto for the long haul or with some concrete goal in mind. Stay tuned to our site and our social media channels to keep up with all our announcements!
Cover photo: Piggy Bank by Pictures of Money, licensed under CC BY 2.0.