DOGE and Other Memecoins: When Jokes Get Serious
With its billions of units, its adorable Japanese dog symbol, and its slogans written in fluorescent Comic Sans, it seemed clear Dogecoin was not meant to be taken seriously but instead as a parody of Bitcoin, the world's most popular cryptocurrency. Yet here we are, with Dogecoin (DOGE) dominating some crypto conversations and serving as the first taste of crypto markets to many.
During its last peak in value on May 8, 2021, Dogecoin was worth around $0.73, an initially unimaginable sum up from around $0.07, which brought the market capitalization of some 130 billion Dogecoin tokens in circulation to more than $80 billion. Only a week before that, the coin value surpassed that of Twitter, Uber, Ford, and many giant tech companies. And compare this to Bitcoin's market cap of around $1.1 trillion around the same time with a limited supply of 21 million tokens.
By this time, it was clear the joke had gotten serious.
Three days after DOGE displaced most major cryptocurrencies to become the fourth most valuable cryptocurrency in the world by market cap, Shiba Inu coin (SHIB), itself a parody of DOGE, also hit the record books. Like its model, SHIB bulldozed its way to ninth position: worth more than $25 billion despite its ludicrous circulation of 1 quadrillion tokens!
The rise of fellow memecoins like DOGE and SHIB in such a short period made it abundantly apparent that parody coins are fast becoming more than imitations: they're becoming valid, and, sometimes, very valuable.
So what happened? What sparked this sudden rush? What is it about memecoins that pushed them to outperform long-known major altcoins like Ripple, Litecoin, and Bitcoin Cash?
Why are memecoins so popular?
Meme tokens are now so famous they're credited for bringing the most attention the cryptocurrency world has seen in a long time. Apart from the early NFT craze that caught everyone in feverish surprise in the beginning phases of 2021, memecoins may be one of the crypto world's biggest shots at the mainstream yet.
Dogecoin first set its significant all time high (ATH) a few days before April 20, 2021, the day declared as "Dogecoin Day". Unlike Bitcoin's cheeky Bitcoin Pizza Day, preparation for Dogecoin Day drove massive community involvement among the "Dogecoin Army" on social media to prepare the first phases for a bull run. A Dogecoin record was reached even before Dogeday, spreading through the use of the hashtags #dogeday and #dogeday420 on various social networks, with popular chocolate bar brands Milky Way and Snickers also contributing their quota to the coin's traction.
But soon even celebrities like Snoop Dogg couldn't resist jumping on the DOGE train. Here's the popular rapper in a video, at the controls of a spaceship in the company of "Snoop Doge", a shiba inu dog draped in purple, with which he leaves to conquer a planet.
This just about sums up all that makes Dogecoin, along with coins like SHIB, so interesting, so loved, and so successful. It began as a lighthearted coin: light in value, light in seriousness, the perfect banter tool, the butt of many jokes, in on the joke as well, and above all catchy and relatable. But there's still more to the story.
Here are the four main reasons why memecoins have become so successful.
Parodies are fun
"The original intent was a parody of all the 'serious' [Bitcoin] clone coins that were trying so hard to differentiate themselves, but all seemed the same," Dogecoin co-founder, Billy Markus, told Business Insider in April 2021. "Dogecoin was just another clone coin, but instead of taking itself seriously, it was just Dogecoin."
To understand this, we have to go back to the Big Bang of cryptocurrency and the birth of Bitcoin. In the wake of its creation in 2008, many developers tried to surf on the wave of its success by launching the first altcoins, or more derisively "shitcoins" (which many see as junk currencies), which took the original code of Bitcoin without bringing anything new, except another name and logo, in order to attract investors drawn by promises of easy money.
In mockery of these scams, developers Jackson Palmer and Billy Markus launched Dogecoin in December 2013.
To illustrate their Bitcoin clone, they drew inspiration from one of the most famous memes in all of Internet culture: Kabosu, a shiba inu dog adopted by a Japanese teacher, whose blog sparked a frenzy of memes featuring cute animal portraits, accompanied by impossible English expressions like "much wow" or "such amaze" in the Comic Sans font.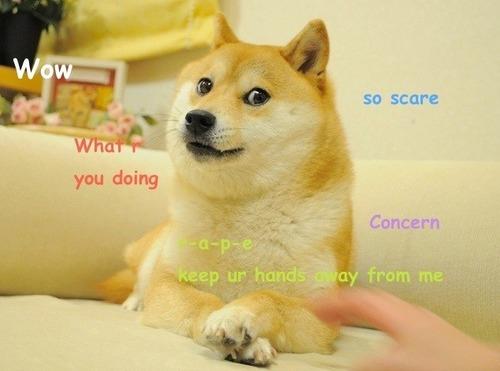 Very quickly, the Dogecoin currency went viral, in line with the success of the original meme. Relying on the fundamentals of cryptocurrencies (decentralization, peer-to-peer transactions validated in a blockchain, all carried by online communities) and with a good dose of derision, Dogecoin became a parody that stayed and worked. DOGE is the biggest parody in the crypto world. The next biggest parody, SHIB, is a parody of this parody; how funny is that!
This is why it's not difficult to understand why DOGE became successful.
DOGE serves as a lighthearted entry into to the cryptocurrency space. It's fun, it's funny, and while investment and money matters can be serious and risky, memecoins like DOGE and SHIB distract away from such pressures. With a large community excited enough to get in on the fun, and its propensity to attract major celebrity influencers like Elon Musk, Mark Cuban, and Snoop Dogg, it was only a matter of time before memecoins saw massive adoption.
Memecoins are cheap and accessible
The ridiculously low prices of most memecoins may also, ironically, be the main explanation of their popularity.
At press time, one bitcoin costs about $30,327. Ethereum, the next biggest cryptocurrency, is valued at $2,100 per coin. Compared to these familiar cryptocurrencies, one DOGE currently trades at $0.18, while one SHIB coin is valued at even a fraction of this.
DOGE traders continue to grow bigger not only because the coin is fun and driven by a large community, but because it's easy to access and far less intimidating than other coins. Get a DOGE or two on the market, and you're automatically a DOGE trader. This is also a way for new or inexperienced crypto users to get familiar with the volatile crypto markets or test out trading strategies that rely on risk without risking more stable and established assets like Bitcoin.
Reverse psychology
To put it simply, people don't like being told what to do.
This is the most ubiquitous explanation of reverse psychology. How do you get people to do a particular thing? By suggesting exactly otherwise.
After its launch in 2013, Dogecoin founders took countless actions to make the coin as undesirable as possible. First was their decision to ensure there was an infinite supply of Dogecoins to discourage hodling, a significant departure from Bitcoin's assurance to only ever issue 21 million tokens. Second came the introduction of the Lucky pool consensus mechanism, which rewarded miners randomly and was adopted to discourage miners from participating in the Dogecoin network.
This is in direct contrast to many coins driven by academic foundations and strategic marketing efforts to convince crypto audiences that they offered something more. DOGE doesn't pretend to. It calls itself a joke. And don't we all love jokes? Don't we all love the underdog?
Celebrity influences on meme tokens
After sheer accessibility, celebrity buy-in may be the biggest factor behind the success of DOGE, SHIB, Safemoon, KISHU, and other memecoins. Since meme tokens are community driven, it only makes sense they would be more susceptible to influencer marketing.
Tesla and SpaceX founder Elon Musk has been DOGE's biggest proponent and influencer. Before Musk took on an active campaign to tout DOGE over other crypto tokens, the coin's total market cap was valued at about $15 million. A year later, DOGE has grown by more than 2,500%. A reverse of the same happened with SHIB when its biggest hodler, Vitalik Buterin, dumped a majority of his SHIB, causing the meme token to lose more than half of its price.
However, while this susceptibility to major influencers can mean dramatic rises in value for many investors, it can also mean just as dramatic falls. This is why memecoins deserve extremely close scrutiny before you invest in any of them, though careful research should be a part of your routine any time you invest in crypto or anything else.
Top examples of memecoins
1. Dogecoin
DOGE is the leading meme token, and the sixth most valuable cryptocurrency in the world by market capitalization.
2. Shiba Inu (SHIB)
A parody of Dogecoin, and branded as the "Dogecoin killer". SHIB currently has a total market cap of more than $2.5 billion.
3. Safemoon (SAFEMOON)
Created in March 2021, Safemoon has risen in value within such a short time due to celebrity endorsements from famous figures like Lil' Yatchty and Logan Paul. Safemoon has a market cap of more than $2 billion.
4. Monacoin (MONA)
Monacoin is one of the oldest meme tokens alongside DOGE, and is a fork of Litecoin. Mona has a market valuation of about $100 million at press time
5. Kishu Inu (KISHU)
Kishu is the third dog-inspired coin on this list. KISHU is named after the Japanese dog breed "Kishu Inu". Launched this year, Kishu is driven by celebrities like Young Thug and currently has a market valuation of $15 million.
Other popular animal-inspired meme tokens are the Australian Safe Shepherd (ASS), Akita Inu (AKITA), and Pig Finance (PIG) and Kangal (KANGAL), which all have a combined market valuation of about $10 million.
While memecoins have been met with their fair share of criticisms, leveled at both the coins and the celebrities driving them, they do offer their advantages.
Pros of meme tokens
They're great for day trading
Memecoin prices fluctuate wildly, making them an ideal candidate for day traders. By capitalizing on their volatility, it's possible to make a lot of profit.
When you do research about your preferred cryptocurrency and get to know its bullishness, while having the required tools you need to navigate investment, coins like Doge, SHIB, and Safemoon might be a great choice to day trade.
They can be humanitarian
DOGE has been used to tip thousands of people, and also to raise money for charity causes. SHIB was also donated to an Indian Covid Relief foundation by Ethereum Founder, Vitalik Buterin.
They can scale better than most major tokens
Dogecoin, Safemoon, and many meme tokens scale better than Bitcoin and other major crypto tokens, making them perfect tokens for quick transactions.
Cons of meme tokens
Little real innovation
The fun nature of most meme tokens might also be their Achilles heel. They don't solve any major technical issues and so might not be very future proof.
Associated with pump and dump schemes
A lot of meme token investors are beginners in the crypto space who might be looking to make a quick buck. These users can be particularly vulnerable to pump and dump schemes and other scam practices. This makes memecoins a less advisable option for future hodling as well as sometimes ethically dubious.
Reliance on celebrities
This might be the biggest flack meme tokens have caught, and deservedly so. Their susceptibility to manipulation by influential celebrities put the tokens at loggerheads with one of the basic tenets of the cryptocurrency space, decentralization.
Conclusion
Bottom line, meme tokens have been in the driver's seat of the biggest adoption of the cryptocurrencies we have seen in years because of their easy accessibility and appeal to newer audiences. Are they the best currencies to hold in hope for the future? Not exactly. But they offer a good proposition for day traders and those looking to get started with crypto. Whatever their use, it's clear meme tokens are beyond memes and joke tags and are just as integral to the cryptocurrency space as other major cryptocurrencies.
---

To get started with Dogecoin today, try ChangeNOW in Invity's Exchange crypto feature!