How Do I Withdraw BTC to a Hardware Wallet Immediately?
Part of Invity's Crypto FAQ series
Whether you're a complete newcomer to the crypto ecosystem or an experienced trader, one of the first things you'll likely want to do after purchasing crypto from an exchange is make sure that your coins never get stolen. The best way to go about doing this is to store your coins in what's known as a hardware wallet. This guide will explain how you can immediately withdraw bitcoin to your secure offline storage device and emphasize why doing so is a good idea.
Why should you store your own crypto in a hardware wallet?
First things first: why should you even bother with storing your bitcoin or other crypto in a hardware wallet? A lot of it comes down to the type of exchange you buy your crypto from in the first place. As a quick reminder, custodial exchanges hold your coins for you while non-custodial exchanges make you hold them yourself. For more information on custodial vs. non-custodial exchanges, check out our previous guide. Well, when you purchase coins from a custodial cryptocurrency exchange your assets are held in an online wallet whose keys are controlled by the exchange itself.
While there are many well-intentioned custodial crypto exchanges out there, the prevalence of security breaches and scams over the last decade has made the broader community rightfully skeptical of letting other people hold onto their assets for them. Buying crypto and keeping it on a custodial exchange is akin to taking out money from an ATM and leaving it in someone else's wallet for "safe-keeping."
Since the crypto movement values autonomy and personal ownership—you should be able to "be your own bank"—it only makes sense that people are adamant about keeping their crypto safe and in their own hands. As a result, you may have heard the saying "not your keys, not your coins", which refers to the fact that if your private key and thus your wallet aren't yours and yours alone, you're actually not the one in control of your funds.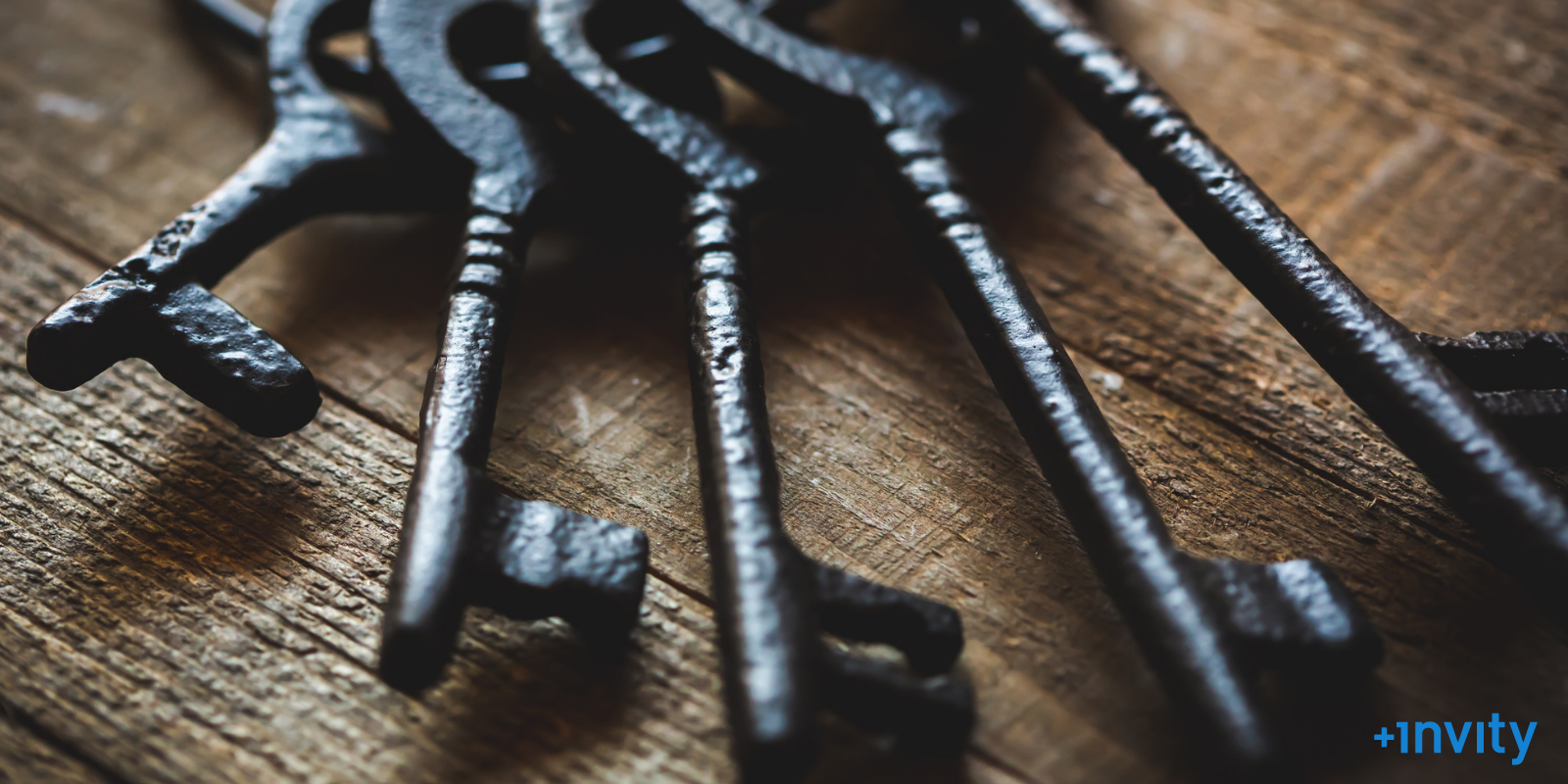 Further, storing your crypto in a hardware wallet will allow you to greatly mitigate the risk of a security breach. If stored correctly, someone would need physical access to your device in order to attempt to take your coins.
Want an even quicker, visual guide to choosing a crypto wallet and making your first Bitcoin transaction? Check out the Invity Beginner's Guide to Crypto!
How do I set up my hardware wallet?
Once you've made the decision to take direct ownership of your own crypto, you'll need to figure out where you're actually going to be storing your coins. You actually have two main options: a software wallet or a hardware wallet. Both of these contain crucial information about your crypto like your private key, but importantly, hardware wallets are physical storage devices that are only connected to the internet when you want them to be. This cuts off the often overlooked possibility of hackers sneaking into your wallet in the background.
We've published an extensive guide in the past about choosing the right wallet for your bitcoin storage needs. One of the most popular hardware wallet options in the world today is Trezor. Their devices are simple to set up, mitigate the risk of user error, and are extremely secure. For information on how to set up a Trezor hardware wallet, check out their user-friendly tutorials.
Regardless of the hardware device that you choose to use, it's important that you don't skip any part of the setup process. While hardware wallet storage is much more secure when it comes to external threats, there is a slightly larger risk of user error. This can prove to be an issue for a small number of users, as lost coins are notoriously difficult (if not impossible) to retrieve. Fortunately, by following a beginner-friendly setup guide, you'll be able to safely get started in no time. If you're using a Trezor device, you'll be greeted with a super user-friendly coin management system called Trezor Suite as soon as you've completed setting up your device.
Withdrawing your crypto from a custodial exchange
While the specific steps involved in taking your bitcoin or other crypto out of a custodial exchange will depend on the platform itself, it's generally just a matter of sending crypto from the online wallet address that the exchange provides you to the address that corresponds with your hardware wallet.
Many custodial exchanges simplify this process by having an easy-to-find "withdraw" button somewhere on their website. After locating this option, you'll just need to fill in your hardware wallet's details and specify that you're making the withdrawal in the form of BTC.
It's crucial that you confirm that the wallet address you're sending your withdrawn bitcoin to matches the address of your hardware device. Sending crypto to the wrong address could mean losing your coins.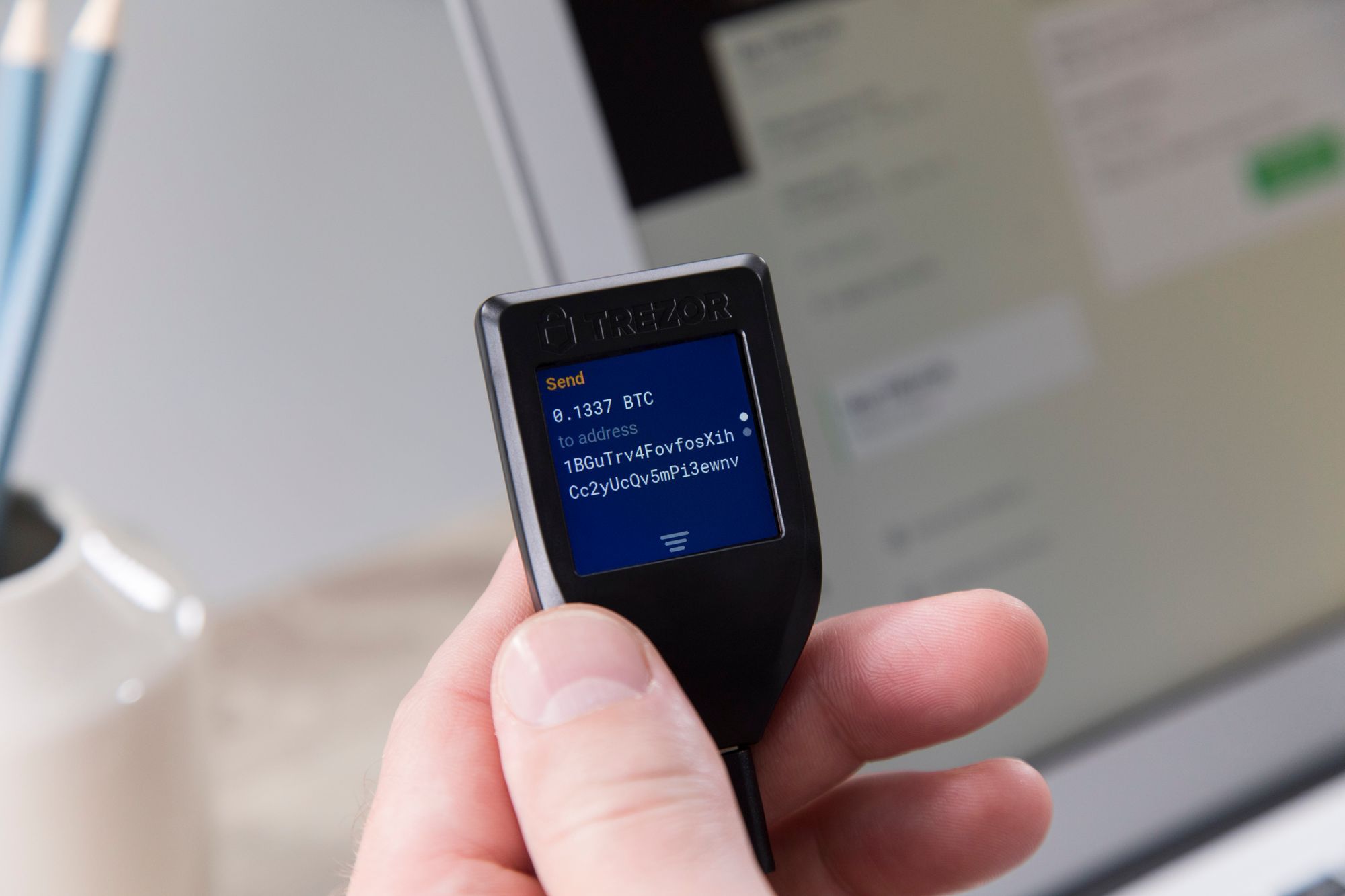 If you've double checked that everything is correct, you're ready to send the transaction from the exchange's online wallet to your own personal hardware wallet. Doing so will often incur a fee dependent on the current cost of bitcoin transactions as well as any additional fees set by the custodial platform—though you'll likely find that these are small prices to pay for a greater overall peace of mind. You may also need to wait for the block to be confirmed; you can view the average Bitcoin transaction time here.
What if I purchase BTC or other crypto from a non-custodial exchange?
Non-custodial exchanges do not store your crypto for you, which is what separates them from custodial crypto exchanges. When you purchase from a non-custodial exchange, you'll be prompted as part of the purchase process to supply the wallet address that your crypto will go to. If you're using a hardware wallet, simply input your personal wallet address at the time of purchase. Then once you've completed the purchase process, your coins will go straight to your wallet.
This doesn't just cut out a step and some fees, it also means that you're always in control of your private key (and therefore your own coins) from start to finish. All of Invity's providers are non-custodial exchanges, making it much easier for both new users and experienced traders to compare crypto exchanges and buy crypto instantly.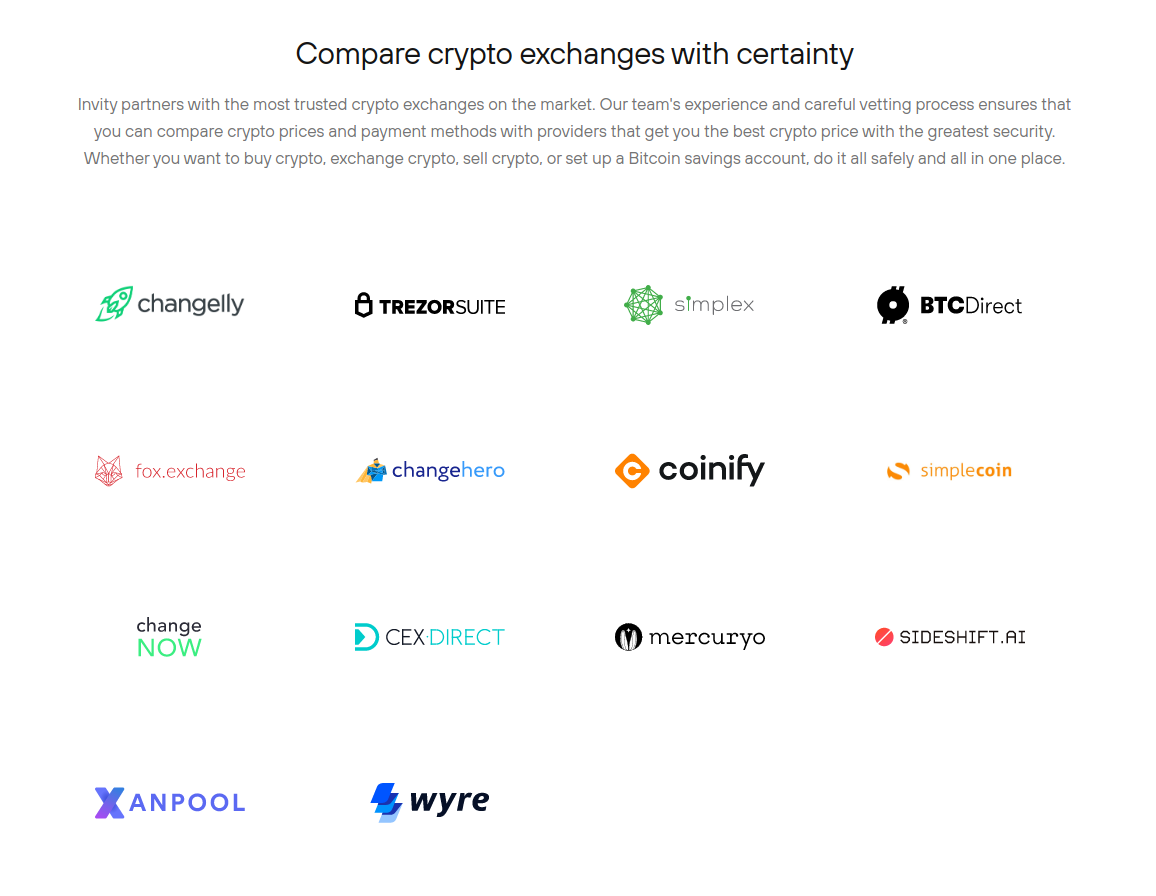 Choosing to store your crypto in a hardware wallet allows you to rest easy knowing that your crypto is safe on a physical device. As long as you don't give out your private key, and create a recovery seed phrase in the unlikely event of an emergency, your crypto will be completely secure. Best of all, your coins will be completely in your own control.